The mission
COT Sweden AB's vision is to work very hard, using curiosity and innovative thinking, to optimize your construction site. They want to understand your business and tailor the rental and sale of fasteners and consumables according to your specific needs.
To enable this, COT Sweden AB needed a well-thought-out IT tool to organize its inventory and have full control over all items and orders with a web-based business system. Since their staff is constantly on the move, they needed a system that would allow them to work efficiently from both desktop and mobile devices, regardless of their location.
To make it easier for their customers to place orders, have them delivered to different work sites, and keep track of their rented items, a smooth, mobile-friendly, and user-friendly customer portal and online store were needed.
Furthermore, COT wanted to streamline the work for their warehouse personnel with routines such as item registration, stock monitoring, and purchasing. They also needed to handle picking new orders and sending them to customers. For returns, a well-designed warehouse system with a mobile application for Android and iOS was necessary.
They also needed a logistics system, both web-based and as a mobile application, for planning and executing deliveries. With the help of the logistics system, drivers could optimize their routes and easily register and document deliveries.
To automate their finances and record all incoming orders, the customer required a robust, automated invoicing system that took care of most tasks.
To constantly improve their work, work towards their goals, and be as productive as possible, COT Sweden needed an advanced system for statistics and monitoring of all their business processes.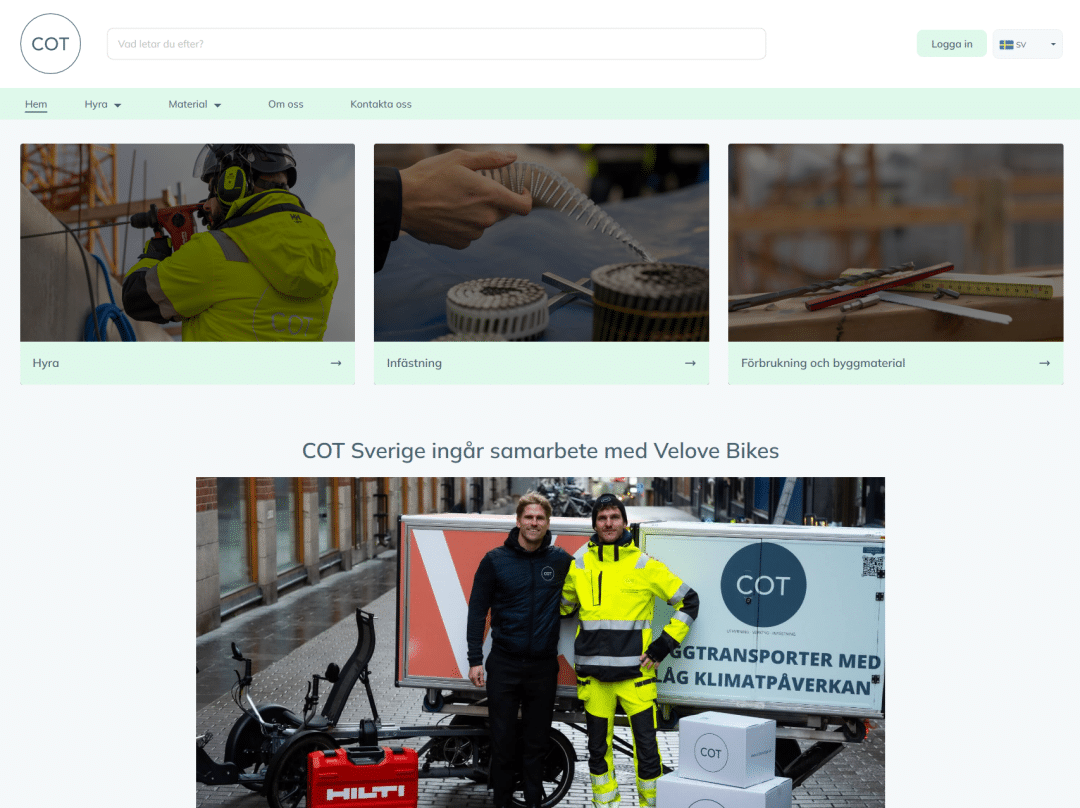 Develit's solution
Develit AB happily began the development of all the customer's systems, which we have continuously developed and been responsible for since 2020. All their systems are based on our servers on Amazon's platforms in Stockholm.
Currently, COT Sweden AB has a modern web portal and online store for its customers, mobile applications for both iOS and Android for efficient inventory management and logistics. They also have smooth deliveries and a highly advanced business system that organizes most of their business processes.
Feel free to visit their online store here: COT Sverige AB
Information
Customer
COT Sverige AB
Launched
2020
Used technologies
PHP, JS, React Native, Vue.JS
MySQL, Rabbit MQ
Kategori
Mobile applications
Support and IT Operation
Web store
Web-based business system